Mission Statement
The Cairo Opera House is a cultural landmark renowned for leadership, excellence and imagination. It has carved itself a significant place in the cultural landscape of Egypt and the Middle East.
Its mission is to:
- Provide first-class productions of ballet, operatic and symphonic works.
- Encourage cooperation with other opera companies and orchestras.
- Discover and develop the most talented young artists in Egypt.
- Support learning, innovation and creativity.
- Provide excellent venues, facilities and services to both artists and the audience.
With its appealing mix of high-quality cultural events and its unique venues and state-of-the-art facilities the Cairo Opera House is exceptionally well-suited to fulfill its mission and be-come a symbol of art and culture in Egypt and the world.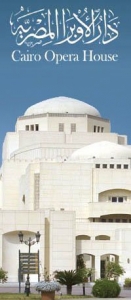 Related Past Events: